Gaging Made Simple
Leave it to Edmunds Gages to develop the simplest, dimensional amplifier available for your production measurement requirements. The Accu-Touch™ uses a highly durable, touch screen as its human interface to providing a crystal clear visual display of your measurement results. A 5.7" (145 mm) hi-resolution flat panel display with multi-color graphics, digital values, and limit indicators provide an easy indication of a easurement's conformance to a tolerance. Housed within a rugged industrial case, the Accu-Touch™ is perfect for on machine, bench top, or laboratory measurement applications.
Simple Gaging Is Now Defined . . .
Gaging Made Simple
Multi-Sensor, Multi Channel Measurement
One Finger Touch
Versatile Application
Dockable Industrial Enclosure
Everyday Apps Available
Digitally Enhanced Dial Display
Record Your Data
Scroll down to read more.
Multi-Sensor, Multi Channel Touch
The Accu-Touch™ is available in two, or four input units making it easily applicable to most gaging applications. The signal conditioned within is compatible with Edmunds Gages LVDT cartridge probes, & lever probes, with single or dual mastering ability, and Edmunds Air Gage Tools with dual mastering, when coupled with the docking air-to-electronic unit. Base unit provides up to 4 single input measurements.
One Finger Touch
The Accu-Touch™ is fully configurable for virtually any dimensional measurement application with the touch of one finger. All menus are touch selections, whereany choice that needs to be made is simply selected by a repeated touch and all volatile information can be password protected.
Versatile Application
Use the Accu-Touch™ with one single gage or up to 4 gages each with 1-input. Individual dial displays report the live reading of 1, 2, 3, or all of the gages simultaneously, or you select the gage of choice at the touch of the display. In multiple check applications, each measurement feature has its own dial display with digital results, and accept/reject indicators also displayed!
Dockable Industrial Enclosure
The Accu-Touch™ can be used with pure electronic gages from the main display enclosure. A separate self-contained air-to-electronic enclosures can be docked to the display enclosure to provide air-to-electronic inputs while minimizing bench space. Available with 1, 2, 3, or 4 air input models.
Everyday Apps available too!
The Accu-Touch™ can be fully configured for more of the sophisticated multi-dimensional applications with the use of Edmunds Gages "Touch Flash" jump drives. These peprogrammed memory drives take the hassle out of set up and add to the ease of use of the unit. A "Programming Suite" is also available for expanded capability.

Digitally Enhanced Dial Display
Understanding the results of your measurement is key to a gaging amplifier. That's why Edmunds has combined an easy to see dial, a digital display for exactness, and red and green status indicators for each measurement or check. What could be simpler?

Record Your Data

Since most of us like to analyze everything, the Accu-Touch will recognize our "Touch Flash" memory drive and record the measurement results at the touch of the display or with the optional footswitch. When you are ready, you can transport the data on the Touch Drive to your PC and open the comma delimited text file with most popular data analysis or SPC programs, or view the data with our convenient "Results Viewer" right on the Accu-Touch™.
Accu-Touch 4 gage display.
Accu-Touch 3-input docking air.
App. and memory sticks available.
Real time display with inch, metric, absolute, or deviation.
Specifications
• 5.7" Touch Screen Multi-color Flat Panel Display.
• User dened LVDT or air-to-electronic input channels from Edmunds medians.
• (2) USB ports, (1) RS-232C serial port, standard.
• 100 to 240VAC 50-60Hz Global Switching input power.
• Inch or Millimeter Displays.
• Live, (+) Peak, (-) Peak, and T.I.R. gaging modes.
• Upper and Lower Limit Indicators.
• Resolution from 2 to 6 decimal places.
• For Single (electronic only) and Dual Master calibration.

6.88" W x 8.50" H x (13" with Air) 7.0" D.
174.7mm W x 215.9mm H x (330mm with Air) x 178mm D.
Accuracy: .5% full scale (LVDT).
.1% full scale (Air).
Precision: (Repeatability) 6μ inch.
Linearity: . 25% full scale.
Bandwidth: 125hz.
Resolution: 10μ inch over +/- .020", 1μ inch over +/- .005".
Range: Auto Ranging from +/- .004" ~ +/- .040".

Base Model:
Basic (includes (2) USB and (1) RS-232 serial ports):
#E7204 (4) LVDT or air-to-electronic inputs.

Expanded Model:
Expanded (includes Auto-Air Saver port, (2) USB and (1) RS-232 serial ports):
#E7204A (4) LVDT or air-to-electronic inputs.

Docking Units:
#E7110 (1) Channel air-to-electronic transducer with input cable.
#E7120 (2) Channel air-to-electronic transducers with input cables.
#E7130 (3) Channel air-to-electronic transducers with input cables.
#E7140 (4) Channel air-to-electronic transducers with input cables.

Touch-Flash Applications:
#4570641 Basic Memory Stick.
#ATTF001 CHK 1 – CHK 2.
#ATTF002 Shape (Top & Bottom/2 – Middle).
#ATTF003 Programming Suite.

Auto Air Saver:
Automatically shuts o air supply when air gages are idle. Saves up to
78% of compressed air used.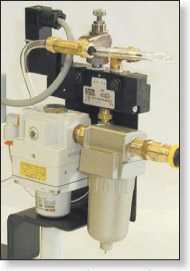 Auto Air Saver reduces wasted
compressed air.
Accu-Touch rear panel connections.
E7204A shown
Click here to download and print complete Accu-Touch information in PDF format.



A New Dimension In Precision Measurement
.